It's a balmy 57 degrees here in the beach house that doubles as our Route 40 newsroom. Meaning inside the house. Apparently our vintage heating system is not designed for January. Also the "walls" aren't "insulated?" Something like that. I'm going to let you look up the snowfall projections yourself, but apparently, yesterday, there was a "Heavy Freezing Spray Warning" along the coast from Sandy Hook to Delaware.
Anyhoo. I still enjoy this weather and wouldn't trade the winter sunsets for anything. #journalism.
In today's "you don't see that every day" commentary, that blue color over the waters of the NJ/DE Atlantic coast is a Heavy Freezing Spray Warning for mariners. At this point, I'm ready to start seeing icebergs off the Jersey Shore. pic.twitter.com/iRBdE9keGk

— Gary Szatkowski (@GarySzatkowski) January 2, 2018
CRDA, Baraka, Palmieri
In local news, former CRDA Executive Director John Palmieri is heading to Newark to join Ras Baraka as deputy mayor for economic growth, transportation and infrastructure.
Look at that guy's glasses. You telling me he didn't understand Millennials?
Don't Give PSE&G $300 Million
Meanwhile in Corporate Welfare, Fred Krupp of the Environmental Defense Fund makes a compelling case that PSE&G should not get $300 million in "hastily" approved subsidies during the lame-duck session/snowstorm season.
Fun facts from Fred Krupp:
* PSE&G had $3 billion in gross profit in 2016.
* Their stock's up 24% in the last 12 months and is at an all-time high.
Krupp says PSE&G tried for similar subsidies in Illinois and was required to disclose its financial records beforehand, whereupon the legislature found the "initially requested subsidies were $300 million a year more than was needed." Very sensibly, in New Jersey they're trying to keep that sh*t under wraps.
By the way, have you noticed all the ads lately for nuclear power? Cold, clear nuclear? It's the future! Or was in 1975.
Elsewhere, Matt Fassen of the NJ Coalition for Fair Energy says similar subsidy programs in Illinois and New York have led to consumers' paying 50% – 75% above market price for energy. Is that how subsidies work? Fassen says PSE&G's local plants are profitable and the company made more than $753 million in net income this year.
Do Give PSE&G $300 Million
Meanwhile, briefing for the opposition is former Gov. Jim Florio who seems to have three different jobs and probably got paid to allow a ghost-writer to write this op-ed and then slap Florio's name on it (I'm speculating). Someone then paid to place the op-ed in the Spotlight (it's labeled sponsored content).
Florio says if you "believe that climate change is the most significant challenge confronting the world today" (we do) you should support nuclear power (I'm not sure I follow) and then…give PSE&G its money? (I think you skipped a step).
In fact Florio's essay doesn't mention the company by name, but I think that's what he's saying. They're definitely the subtext for this delicious piece of Sponsored Content.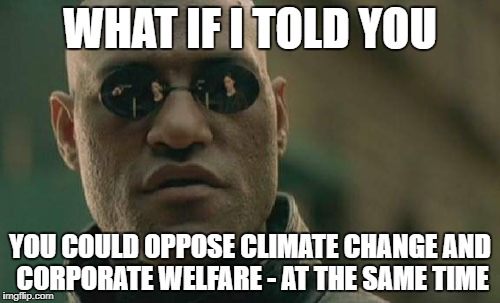 ***Breaking Revel News***
If you wanted more indications that Bruce from Denver is buying the Revel, Bruce Deifik has registered a new company as a "casino hotel resort" and agreed to a mortgage on the property from JPMorgan, Route 40 can exclusively report. Read Elinor's story and subscribe to get desktop notifications, please.
Marijuana Money
A law firm in Roseland says we the People of New Jersey could collect up to $1 billion a year in revenue from legal marijuana if we play our tax-and-fee cards right. Previous estimates were in the $300 million-$500 million range. Why should anyone care what these people say? Oh, two lawyers at the firm are on the governor's healthcare transition committee, and one of them says all this marijuana money could relieve pressure on property taxes.
I remember when casinos were supposed to solve the property tax problem. Maybe this time will be different. I sense a new birth of civic engagement–transparency, accountability, good governance–sweeping across the land. Maybe this time…
Elsewhere in Dope, FiveThirtyEight had a piece the other day about how legal marijuana has not been the "boon" to small businesses many people thought it would be in Colorado and Washington State. The price of the drug has plummeted since 2014, which is good or bad depending on your perspective on drug use, I guess. But if you're looking for a cottage industry of yeomen pot farmers in the Pine Barrens and rustic pot production plants in old malls and cute little mom-and-pop pot-tisseries on the Boardwalk, the data have shown an "increase in well-funded cannabis growing operations" and a "market that increasingly favors big businesses with deep pockets" that can "shell out for sophisticated technology to create brand new ways to get high."
Is it possible for regulators to encourage small growers? Small businesses? Maybe costs would be a little higher, but that's not such a bad thing. Probably it's too late for that.
Farewell, Art
Lastly, Art Dorrington, the "Jackie Robinson of hockey," died Friday at age 87. Bill LeConey has a nice tribute.
For the rest of the news in a chilly South Jersey, see below:
Labor unions hoping for a 'brighter opportunity' under Murphy–When then-candidate Phil Murphy accepted yet another endorsement from organized labor in October, he condemned the current governor for often suggesting that unions are the problem — and never part of the solution. www.politico.com
Pringle Joins Democrats Jockeying to Replace Lance in New Jersey's 7th District–Democrat David Pringle is the most recent candidate to enter the fray in New Jersey's 7th congressional district ahead of the June primary election, a race in which six other Democrats have registered to challenge incumbent Republican Rep. Leonard Lance. observer.com
Football: McAneney steps down as Lenape coach–A month after he led Lenape High School's football team to its first-ever South Jersey championship, Tim McAneney decided to step down as the Indians' coach. www.courierpostonline.com
N.J. milkweed bills would help feed monarch caterpillars–Two bills to encourage volunteers to plant milkweed on state lands to help the monarch butterfly, whose population has fallen 90 percent across the U.S. in the past 20 years, await signing by Gov. Chris Christie. www.shorenewstoday.com
Doctor who stole $100M from Medicare could get 30-plus years–WEST PALM BEACH, Fla. (AP) — A politically prominent Florida eye doctor could get more than 30 years in prison for stealing $100 million in one of history's largest Medicare frauds. www.pressofatlanticcity.com